Please choose options for all selected products
Product Description
Blackbox Bantam VHF Two Way Radio K1 Connector

BLACKBOX BANTAM


BUSINESS 2-WAY RADIO


BRAND NEW MODEL!

*Available Now with Optional

Ballistic Nylon or Silicone Case


BANTAM NEW MODEL
only. . .$188.00each

Compare to Motorola
CLS1110, CLS1410, VL50,
CP150 and Kenwood TK-3230




Download Blackbox BANTAM
Radio Brochure




NEW MODEL
COMPACT - RUGGED
PROFESSIONAL RADIO



Buy 6 or More and Receive
Additional Discounts

ƒ- 16 Channels
ƒ- High Capacity 1500mAh Battery
ƒ- Rapid Rate Charger
ƒ- 4 Watts / 2 Watts Selectable
ƒ- Ultra Compact 3.75" H / 6.9oz
ƒ- Voice Channel Enunciation
ƒ- Narrow Band Compliant
ƒ- 2 Year Factory Warranty
ƒ- Fully Programmable Fqs, PL, DPL
ƒ- Programmable Buttons
ƒ- Voice Encryption Function
ƒ- Alarm Function
ƒ- Whisper Transmit Function
ƒ- High / Low Power
ƒ ƒ - VHF 136-174MHz
ƒ - Silicon Case Option
ƒ - Uses 2-Pin accessories (Kenwood)
ƒ - Replaceable Belt Clip
ƒ - Repalceable antenna


FREE SHIPPING & PROGRAMMING!

*Available Now with Optional Ballistic Nylon or Silicone Case




Only 3.75"!!

K1 Connector

The Bantam is a member of the Blackbox Series Professional radios and has all the features you require in a business class 2-way radio but in a compact size.

Blackbox Bantam Features:

The Blackbox Bantam Series two way radios is narrowband compliant and measures only 2.3" x 3.75" x 1.34" with a weight of 198 grams. The Bantam UHF radio has frequency range of 400 to 470MHz and is fully programmable.

An Alarm Button on top will send a signal to a partner on the same channel so the partner receives an alarm tone indicating an emergency.

High/Low Power Switching is accomplished through a programmble button. Setting to low power saves on battery operating time.

Whisper Mode - with this function you can be heard clearly even when you speak into the radio with a very low voice.

Compatibility: The new Blackbox BANTAM is compatible with all 2-pin Kenwood and Motorola connectors (K1 and M1 connectors).

Feature Definition: "Voice Annunciation", this feature allows you to hear what channel you are on, a valuable feature when selecting a particular channel in the dark. Also informing you on low battery and scan on indications.

In The Box: Bantam two-way radio, Rapid Charger, Lithium-ion Battery, Antenna, Belt Clip and Owners Manual.
Documents
Adobe Acrobat Reader
Adobe Acrobat Reader is required to view PDF files. This is a free program available from the Adobe web site. Follow the download directions on the Adobe web site to get your copy of Adobe Acrobat Reader.

Blackbox Bantam User Manual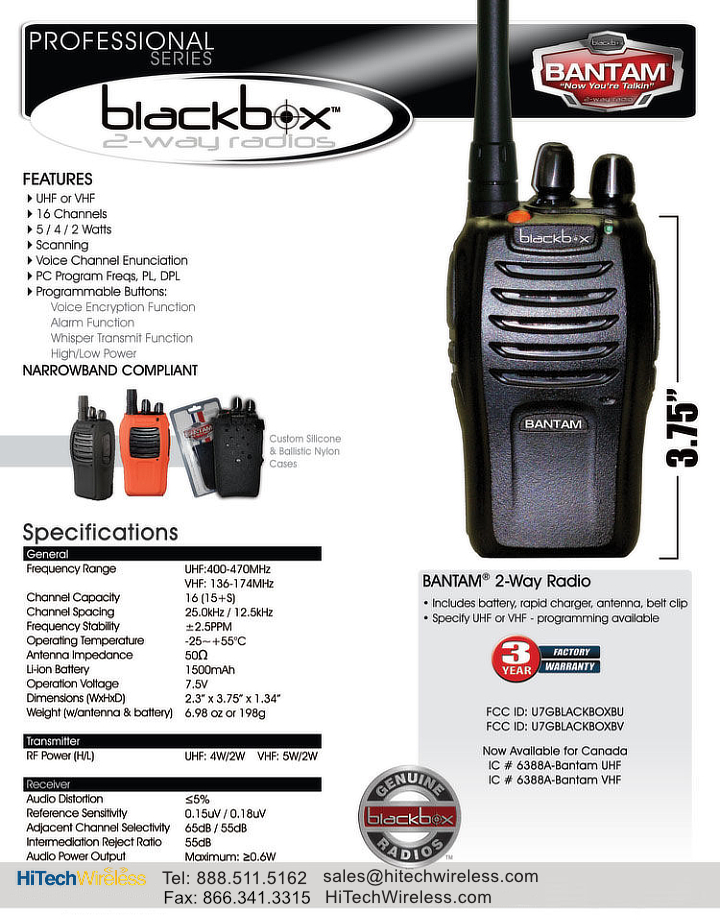 Blackbox Bantam Data Sheet
Other Details
FREQUENCY BAND
VHF: 136-174MHz
BATTERY
1500 mAh Lithium Ion Battery
CHANNEL SPACING
25.0kHz / 12.5kHz